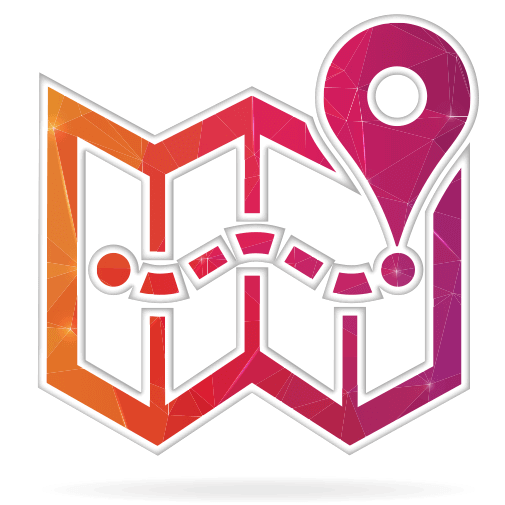 15 Common Local SEO Questions Answered
This month, we're tackling common local SEO questions that businesses, possibly including yours, are asking. Local SEO is necessary because more and more people are searching online (whether via desktop or phone) for services within their local area. With these types of searches increasing all the time, businesses are realizing they can't afford to neglect local SEO. And of course, when it comes to getting your business to rank in search results, questions are bound to arise. Hopefully, we'll be able to answer a few of those for you today.
1. Why does Google My Business matter? What does it have to do with SEO for my website?
In order to understand what Google My Business has to do with SEO, let's quickly define the difference between traditional SEO and local SEO:
Traditional SEO: The process of optimizing your website to show up high in the search results when someone searches a phrase relevant to your website/industry.
Local SEO: Local SEO doesn't just focus primarily on your website, but it also focuses on your Google My Business listing that shows where your business is located, shows your business hours, etc. This helps people find you when they are looking for your kind of services within their area.
With local SEO, there are 3 factors that are absolutely critical: proximity to the user, prominence of your business (does it rank well in traditional organic search), and relevance to the user's query. In other words, are you near the user? Are you seen as authoritative? And, does your business answer the question(s) asked by the person searching?
Your Google My Business listing is important because it's what helps your business to show up in local search results on Google Maps and the Map Snack Pack. For example, if someone searches, "Web design companies near me," it's the Google My Business listings for local web design companies that will show up at the top of the results. Additionally, based on the types of schema and structured data markup, your maps listing may be featured in the right sidebar as a recommended listing. Basically, Google uses business listings in locally focused search phrases, not your website.
From your Google My Business listing, people can follow the link to your website to learn more about your business.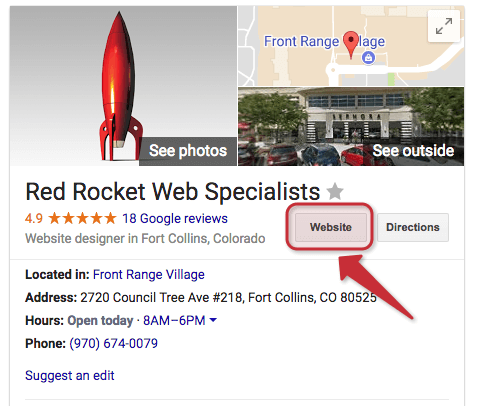 Remember: Google gives top search result spots to the listings of local businesses when someone searches for something local.
2. Will my business suffer if I do not claim my Google My Business listing?
We really do hope you have been able to establish relationships with clients so that even just by word of mouth, you are getting loads of business!
However, as we just discussed, local SEO (focusing on your Google My Business listing) is going to help your business rank better when someone makes a local search. When you don't claim your listing, you do not have the power to update your listing as necessary. Not claiming it could also mean that someone other than you could claim it and have control over your listing.
Google support can walk you through how to claim your listing.
3. What kinds of businesses should use local SEO?
In order for a business to qualify for a Google My Business listing, you must own or have authority to represent the location you are listing.
Your business must be open and running. You can't start a listing for a business that is still under construction.
Your business needs to make in-person contact with clients/customers during the hours you include in your listing.
An e-commerce site that only deals with customers online and does not use a physical location should not have a listing.
4. Can I have two Google My Business listings within one city? How do I rank for multiple locations?
Within your Google My Business account, create unique listings for individual business locations.
Make sure each location is verified and has accurate hours and up-to-date photos. If your business name is the same across your multiple locations, the names in the business listings should be the same. Also, make sure the categories you select are the same unless the different locations legitimately serve different purposes. Be consistent while making sure to identify these as 2 different locations within the address.
For more guidelines on ranking for multiple locations, see the section titled "Chains, departments, and individual practitioners" in Google's Guidelines. 
5. Is it smart to use Yext, Infogroup, Localeze, or another listing managing program to take care of my listings?
Using a listings manager is extremely helpful when it comes to making sure your listings are accurate throughout the web. Especially because there are so many different places your business could be listed (outside of Google My Business), having a program to manage them is a life-saver.
However, it's best to personally claim and manage at least the most important listings, including Google My Business, Facebook, Bing Places, InfoGroup, Factual, Acxiom, Yelp, Yellowpages, Apple Maps, Foursquare, and Manta.
Another tool that's really helpful is Moz Local. You can use this tool to track down your listings and see if they're accurate. From there, you will know which listings need fixing.
6. Is Google the only local search engine I need to pay attention to in local search?
Google is the most popular search engine used. So far in the article, that's been our focus. However, Bing and Yahoo's local search are powered by Yelp, not Google. Make sure to claim your Yelp listing as well!
Quite a while ago, we had been receiving mail that had to be forwarded because it had our old address. This was after we made painstaking efforts to make sure we had updated everything in our move. We updated our listings to reflect our new address and were confused as to why someone was still finding our old one. We later realized that they had likely used a different search engine and we had somehow missed the key listing for that search engine. Don't make our mistake. Pay attention to Yelp, too.
7. Google just called and told me my listing is incomplete. Should I go through with those calls and complete my listing that way?
Simple answer to that question is…no. Google does not call businesses to tell them to update their listings. Unless you have initiated a call to them, there is hardly a chance that they will ever call you. We'll gladly break that news to you so that you can do what we do: hang up. To learn more, see our post about Google phone calls.
8. I know that having reviews can help my rankings. Can I reward clients for leaving reviews?
We get it. People nod along when you mention how helpful it is when your customers leave reviews, but they often don't get to it. Wouldn't it be nice to be able to offer something to help motivate them?
Though it may seem ideal, this is actually NOT allowed. Part of the reason, most likely, is because Google wants to give people who are searching the most accurate reflection of a business. Offering rewards could create biases and people may not be giving an honest review of your business. You don't personally want false reviews convincing you to buy something from a business, do you?
Learn more about Google's review policies.
9. How do I optimize my business for location when we're located in another business?
If your business is located within another business, a mall, or another institution, and operates as a distinct entity, you should have your own listing. Your listing will have your unique business name, not the name of the building you are located in. However, you can include those location details in your listing. As you see below, in our Google My Business listing, it's noted that we are located in the Front Range Village.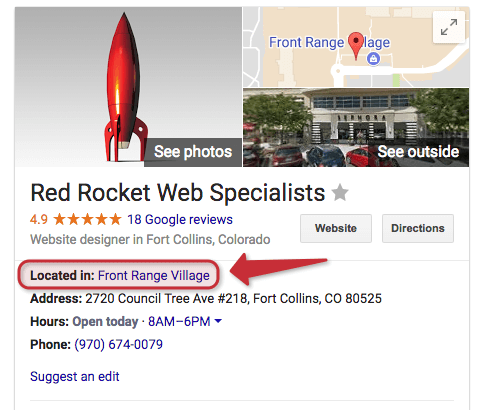 For more details on how to do this, see Google's guidelines on representing your business.
10. Can I rank for a city nearby that does not have my physical store location?
The answer is, not with local SEO when it comes to your business listing. The goal for local SEO is for people to be able to find something they're looking for within a certain area. If I'm looking for a Chiropractor in Fort Collins, it would be really frustrating for Google to be pulling up options from Longmont.
You can organically draw people to your site by making it clear that you serve surrounding areas. You can do this within the content of your site. However, be clear about where you are located. For example, we have had a number of clients from Greeley, even though we are located in Fort Collins. In some of our blog posts, we talk about SEO and Greeley and can rank for that through pages on our site. However, we cannot come up in the Greeley business listings with integrity because we are not physically located there.
11. Will the categories I select affect my rankings?
Categories serve to help people understand what purpose your business serves as well as help people searching for your types of services to connect with you. If you select categories that don't accurately reflect your services or are completely irrelevant to what you do, you may not be found by the people who are searching for what you offer. So yes, your categories will affect your local ranking. Learn more about choosing your business categories.
12. Could having missing information affect my Google My Business rankings?
The more complete your information, the better Google can know if it makes sense to use your business as an answer to a local search that someone has made. People are looking for specifics when making a local search. Make sure you have your hours, your location, your categories, and description filled in!
13. Should I create a new Gmail account to claim my Google My Business listing?
You can use your current Gmail to claim your listing. If you don't want to use your personal email, use your business Gmail account (example: johndoe@company.com). If you're setting this up for your business, it's recommended that you use a generic email that could be accessed by people working on your listings, such as an SEO agency.
14. Can I remove bad reviews from my Google My Business listing?
Unfortunately, and fortunately at the same time, you do not have the power to remove negative reviews. If that was possible, any company could remove bad reviews to try to make their company look better. The point of reviews is to allow people to share their honest experience and opinion about your business, whether good or bad.
If you suspect that you are getting spammy reviews, you can flag them.
Go in to manage your reviews in your Google My Business account. Next to a review, you'll see the menu icon (3 vertical dots):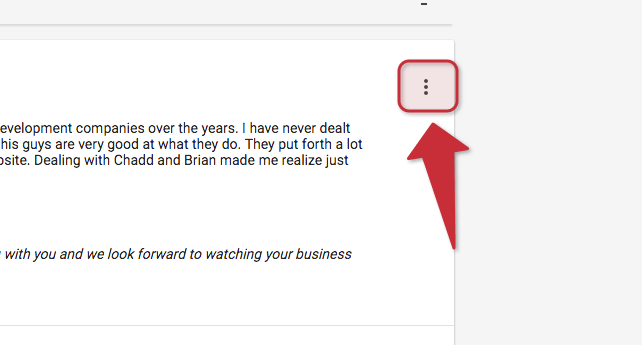 Click the icon and then select "flag as inappropriate."

Whether or not the review will be removed is then up to Google. They make the ultimate decision and determine if it's spam. Learn what is against review policies here.
Something you CAN do when you get a bad review is damage control. Respond to people who leave reviews and figure out how you can fix their problem. Apologize for bad service they received and communicate clearly how you will keep that from happening again. That way, even when people see the bad reviews, they'll see how you did everything to serve the displeased customer and make wrongs right.
Continue serving your customers and clients well and encourage them to leave you a Google review. New reviews will help push the bad one to the bottom.
15. I need help with my listing but I can't figure out how to get a hold of Google. What do I do?
For phone support, call them at 1-844-491-9665.
You can also message them on Twitter: @GoogleMyBiz
If you are struggling to understand something with your Google My Business account, you may find Google's guide helpful.
Need Help with Your Local SEO?
Small businesses can find it overwhelming to stay on top of local SEO while keeping up with the responsibilities running a company entails. If that's you, we'd be happy to talk about what our SEO company could do for you.
Ready to take a step? Contact us.