Fort Collins Website Design and SEO that Actually Get Results
Are you worried that your current website design isn't attracting other Fort Collins companies as you had hoped? Has the phone stopped ringing because your website's design is just plain ineffective?
If you answered yes to either of these questions, you're not alone. We work with frustrated business owners and marketing directors in Fort Collins and all of Colorado that have a lot on the line – their business, or their jobs. We completely understand how important it is for the phone to ring because, hey, that's how we all make a living. But what happens when the phone literally stops ringing? It's scary to even think about what might happen if that day comes. Or maybe it already has.
How can a Fort Collins website design company help you succeed?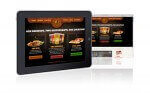 In Fort Collins website design agencies all claim the same things: features, benefits, ROI. But how exactly does all that work? It starts with having a website that actually works. Imagine what it would be like if your business started flourishing because your website had the proper attention to detail from design to development. This is the goal at Red Rocket; results. It starts with knowing how to be found on Google, and then, what to do with that traffic once you get them to your website. And beyond that, it's about knowing which marketing strategies will turn your one-time purchasers into  repeat customers.
Whether you own the business, or you're working on tight deadlines to exceed your boss' expectations, SEO and website design are some of the most powerful assets available to you to help you reach those goals.
If you're ready to partner with a Fort Collins website design company that can help your business take advantage of the full power of the web, we'd love to hear from you. Give us a call today at (970) 674-0079, and we'll show you how we'll turn your website into a money-making, marketing platform that'll give your competitors a run for their money!
---
Getting Traffic to Your Website
Are you frustrated with the lack of visitors to your website? Think about all the potential business you could be missing out on because people simply don't visit your website. Design only goes so far. You have to be found on the internet first.
Getting people to your site is the first step. Search engine optimization helps you get visible! So few businesses have the luxury of taking over their market with little effort. It's important to fight the good fight and beat the competition in search traffic. Without visitors you can't make sales! This is where we come in. Other companies that offer website design in Fort Collins may or may not be able to actually make your website visisble, even though that's the most important part.
Monitizing Your Website's Traffic
Imagine a world where your website outperformed all the competition. Wouldn't it be great if the phone were just ringing off the hook, flooding through your doors with more business than you can handle?
Getting people to the site is difficult enough. What happens when you have plenty of traffic but the phone just isn't ringing? Conversions issues might stem from your website design, your content or your photography.
Keep Your Business Growing
If it's alright with you, we'd love to be part of your success in increasing your sales! A beautifully-designed website that can be found on Google is only part of the battle.
Once you've got the traffic you need and the phones start ringing, it's time to begin increasing your revenue!