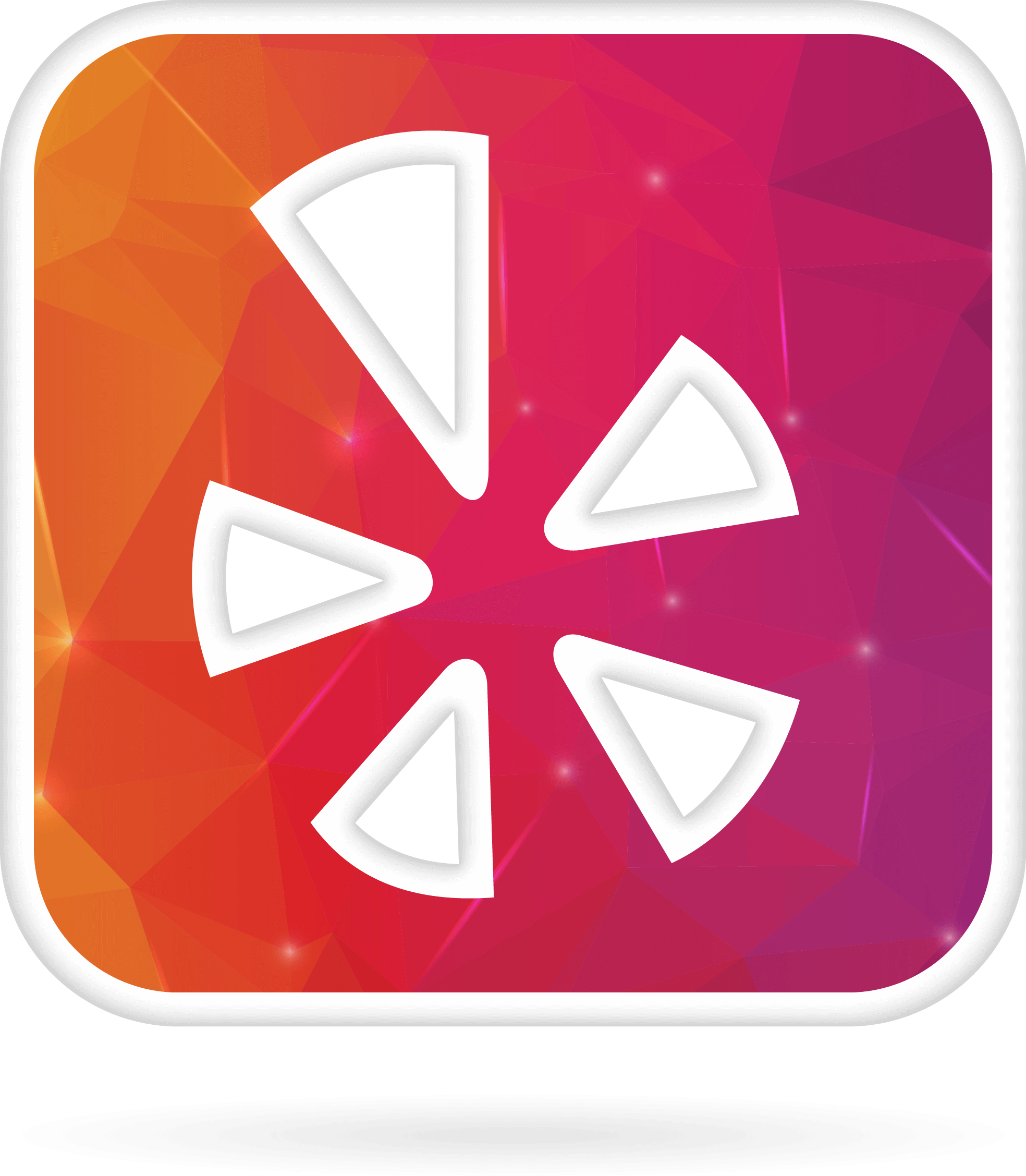 Yelp Cracks Down on Businesses Who Solicit Reviews
Soliciting Yelp reviews now goes against Yelp's review policies. The motive behind Yelp's recent announcement to crack down on businesses who solicit reviews or hire companies to solicit reviews for them makes sense. Their goal is to give users the most accurate and unbiased information on a business as possible. Maintaining trust and usefulness when it comes to reviews is a high priority, but is this the best method of making that happen?
Keep in mind that Yelp is not only saying, "Don't offer incentives in exchange for a positive review." They're not just strict about businesses who unethically manipulate rankings by getting fake or biased reviews. In addition to those things, they're taking their policies a huge step further than other review sites and saying, "Don't ask for reviews, period."
While I appreciate their efforts to hinder and eliminate deceptive reviews, I'm concerned that this new approach which completely bans soliciting Yelp reviews could also harm businesses who are doing their best to comply with Yelp's policies.
How Could Yelp's New Approach Hurt Businesses?
Obviously, getting positive reviews organically is ideal. We have to admit, however, that not many people, though they've had a great experience with a business, are going to hit up the web as soon as they can and leave a review. Negative reviews are the ones that are a whole lot easier to gain organically. Ever noticed you don't have to ask strongly disappointed customers to leave one? They're quite eager to voice their disapproval and warn everyone else about their horrible experience. Unfortunately, anger tends to be the greater motivator in this area.
Here's something Yelp may not be considering: users could still be getting a deceptive view of a perfectly good business even after Yelp's extreme efforts to keep this from happening. Because unhappy customers are more likely to leave reviews than pleased customers, the reviews could be skewing towards the negative experiences and not give users a fully rounded idea of what the company is actually like.
What Happens if Yelp Suspects You are Soliciting Reviews?
If Yelp finds any indicator that your business has been soliciting reviews, whether through an email form, a kiosk in your office, offering incentives, or another method, your search rankings will suffer. That means your business listing will appear lower in search results. You'll know when you're being penalized because Yelp will send you a notification.
To avoid the penalty or remove one after it's been given, Yelp provides a compliance verification form you can complete in which you agree that you will adhere to their policy and not solicit reviews. Your compliance form will be processed by their support team within 45 days and then they will let you know if they decide to remove the penalty.
Is there any way to ensure you are still getting reviews?
You probably feel a bit frustrated or discouraged after reading this. I felt that way when I first did the research myself. My goal, however, is not to leave you discouraged. Let's talk about what you can do without going against Yelp's policies.
You don't just have to sit back and hope that people discover your Yelp listing. While you cannot ask your customers to leave you a review on Yelp, you can simply make them aware that your business is listed there. One of the ways you can do that is by including the Yelp review badge on your website.
Once on this page, you'll click the link, "Review Badges section of Yelp for Business Owners":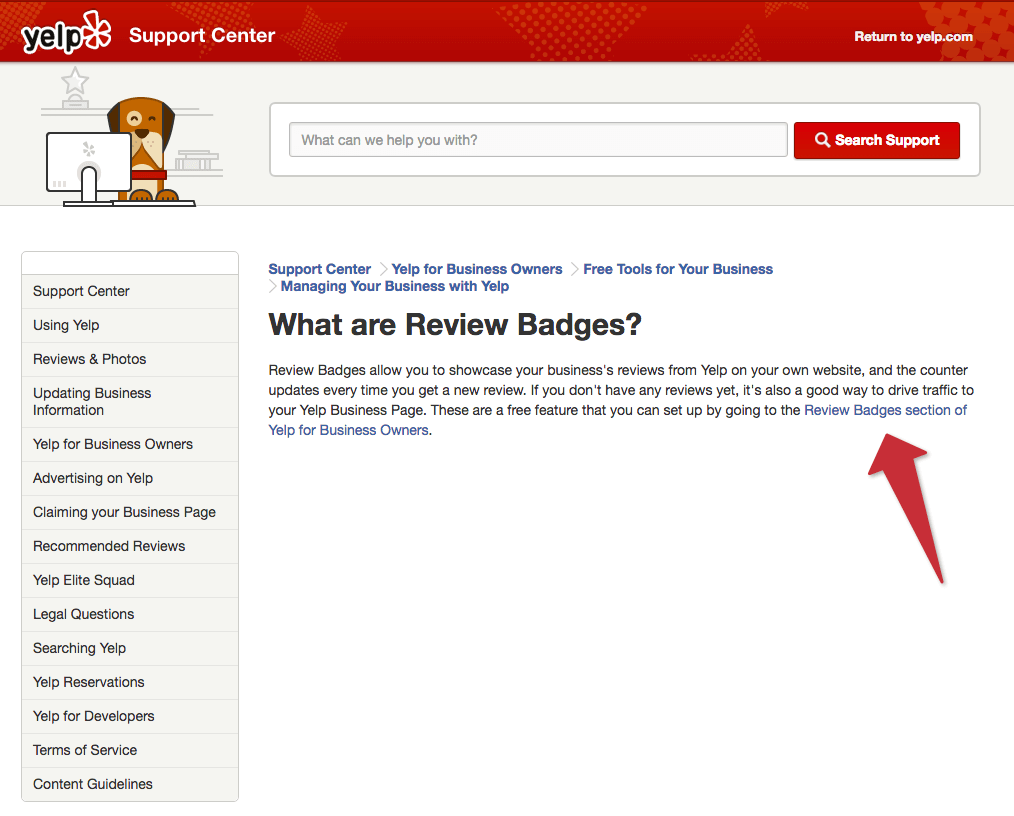 After this, you'll be prompted to log in to your business Yelp Account.
From there, you'll be given the option to copy some code into your site to include a Yelp badge.

Here are the previews of the various badges you can include on your site: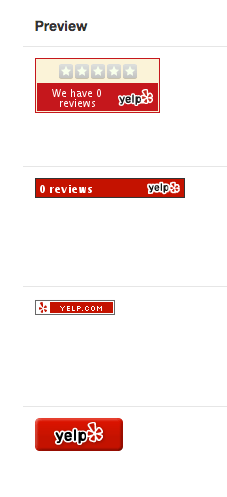 In addition to including a Yelp badge on your site, you can also inform people that they can check you out on Yelp. Just giving them the knowledge that you are listed there could help people remember to review your business.
At your business location, you could put up a sign to show that you are listed on Yelp. You can print Yelp's logo here.
On a Positive Note…
Remember that Yelp is not the only review site out there. Just because soliciting Yelp reviews is no longer allowed doesn't mean you can't kindly request them elsewhere. Google is the most used search engine in the world and as of yet, Google's review policies do not prohibit you from merely encouraging customers to leave you a review.