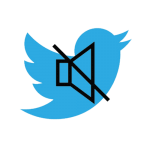 It seems that Twitter is unveiling all kinds of new goodies. Less than a month ago, Twitter revamped the way profiles appeared to include a massive header image.  Additionally, Twitter now allows users to pin their favorite posts, making them "sticky".  This all pales in comparison to their latest feature: the mute button.
If your business is one of the 560 million active users, this may have an impact on your brand's B2C Twitter reach. The general functionality of  the mute feature is quite simple:
Muted users can follow you and interact with your content.
You can follow a user you've muted. Muting a user will not cause you to unfollow them.
@ replies and @ mentions from muted users you follow will still appear in your Notifications tab.
Muted users you follow can still send you a direct message.
When you mute a user, their previous Tweets will still be displayed; only Tweets from the point you muted them will be hidden.
How to avoid getting muted on Twitter
So how can you avoid getting muted? The short answer is don't be too spammy. It's not just Twitter, this could be said for nearly any social media platform. Where many businesses fail  is not understanding their audience.  Keep in mind you must engage users on each platform differently. For many Tweeps (Twitter users) major taboos include talking exclusively about yourself, neglecting to interact with followers, posting too aggressively, or posting boring and non-relevant information.
If you use a lot of social media, these guidelines should all sound fairy familiar.  Seasoned social media experts would tell you these are the foundations of social media marketing.  If social media is something you've barely scratched the surface of, that's OK.  Use these tips to grow your following or "likes".  It's a great way to put a little flair into how your brand is received online.