A couple months ago I dared Chris, our resident SEO expert to see if he could push an old site that we designed years ago up in the Google rankings for the term "fish recipes."  Frankly, the site used to rank really well for a lot of fish recipe phrases, like mahi mahi recipes etc.  However, with years of neglect, we thought it would be fun to see if we could revive the traffic on an old, ignored site.
Chris is like I am.  He's competitive so he took the challenge.  He began optimizing some of the pages in the site for "fish recipes" and the like and before we knew it, we were ranked #2 again for a number of great phrases like "bass recipes."  By the way, that's #2 out of  7,950,000 results.   That's some tough competition.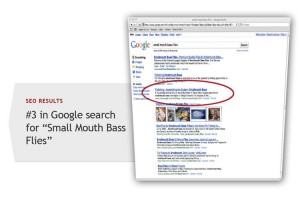 This week, Chris has been working on just the phrase "fish recipes" and that one is a little tougher.  There are 69 million other sites that we have to beat out so we're only up to page 4 so far.  That's a gain of more than 100 spots so far.  But stay tuned.  We'll get there soon.